07752 664282
Raystede Summer Fair/Festival
Providing the Main Stage/Canopy,P.A. Backline and Kit for the Performers.
Plus 3 other P.A.systems around the Event Site for Demonstrations and Shows
We can provide Sound Systems for Outdoor Events, Bands, Conferences, Weddings, Sports Days and Parties,
( please see Party Time page ).


Complete Small Festival Service

6 x 4 mtr Stage with marquee style Canopy (stage typical height 600mm,includes steps)
A minimum of..2...1x18"Subs,4...HK Audio,Linear 115F,full range speakers,Electrovoice and Smartsound monitors.
Yamaha LS 9 32 Channel Digital Desk
Yamaha and Matrix amps....4 - 7 KW.
Shure,Sennheiser and JTS mic's.
Led Par Lighting Cans.
Master of Ceremonies/Compere.
Live Multitrack Recording (Logic) of performances.
Gazebo for changing.(green room....actually black)

Package from £1098.00.inc crew.
Backline also available.
Trace Elliot, Peavey,Carlsbro,Crate,Premier Series Maple Professional Drum Kit,Sabian and Zildjian cymbals.

Outdoor Horn Systems
We use a combination of TOA and RS.horn speakers.
100volt line amps with ducking facilities (mains and 24volt battery power)
All our 100,volt line horn systems can be mixed to operate with our full range high power systems for music and announcements
within the same event.

P.A. Systems are available from a simple take away and operate,upto a larger Band System with operator

Stage Systems and Marquee Canopy,with Gazebo for changing. (typical size 6.mtr x 4 mtr)

If you don't need a whole P.A. System we will hire items separately such as Radio Microphones, Microphones and Speakers.

We have knowledge of Outdoor Events and can provide Multiple Speaker placing around Arena's and various sized venues.

We provide for our more corporate events an Electrovoice or HK Audio System.

We are always happy to work with you and provide appropriate background or specialist themed music for your event.

Lighting
We have a range of LED Par Cans available
and an easy to set up Lighting Rig to rent D.I.Y, or we will deliver rig for you.
Festoon lights are avalable to rent from £30.00 per day (12,Mtrs)
Please call

Connectable for longer lenghts,professional quality.

We generally rig and install P.A. Systems with crew on site at the event....but below we have included some items as a guide for dry hire.
Price List.

Yamaha LS 9 32.Digital Desk …..... £125.00 per day.

Yamaha LS 9 16.Digital Desk.......£85.00 per day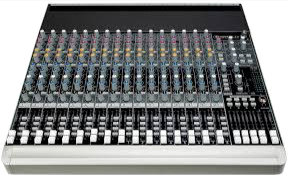 Mackie VLZ 16/4/2 ….....from, £ 35.00 per day

Behringer Mini Desk. 4 mic inputs,2 stereo inputs …..... from,£15.00 per day

Proel Mini Desk. 2 mic inputs. 2 Stereo line inputs...............................from £10.00.per day

24 Channel, 30Mtr, Multicore........................£25.00 per day.
SPEAKERS

HK Audio L5 115.FA passive.
Max SPL peak.139 dB half space____Power-handling nominal (RMS)600 Watt____Power-handling, peak.2400 Watt
Power-handling, program.1200 Watt ____Frequency response -10 dB.55 Hz – 20 kHz____Sensitivity 1W.1Mtr.....106 dB

Electrovoice SX250....15" + horn. 1200W peak handling...131.db.
Smartsound (UK manufactured)Speaker Systems …...18" Subs, BWP18 /Turbosound loaded,1500w RMS...........
15" Bandbass Bins.(Not Shown.)....
Low Mid,High,Cabs,1 x 12 + horn,(100,db..1 watt,1 mtr)

Bishopsound Beta10 300w.RMS 97.5db (1watt, 1mtr).......

Dragon Spirit Passive108s.... 8" Driver / 1" Rotateable Horn. ( 99db 1watt,1mtr. 200w RMS )
JBL Eon 600w Powered Speaker.
Speakers available to hire from £ 30.00 each per day.
Please email or call for any quotes on equipment.
Our small Outdoor Event Systems with 1 radio mic starts from (local Delivery)
Our 4 Speaker Outdoor Event System including Radio Mics starts from
( Larger speaker arrays available on request ).Not inc delivery
The equipment we provide includes manufacturers HK Audio, JBL, JTS, Mackie, Electrovoice Sennheiser,Yamaha,Smartsound,(uk)Toa and Shure.

Should the worst happen we have our own generator, so that the show will always go on.
( Larger speaker arrays available on request ).Not inc delivery

2 JBL Eon's,4 channel desk and stands.
For D.I.Y P.A. System)
TV Screen Hire
LG Oled 55" 4K HDMI

Only available on Topgearsound Crewed Events......................from £125.00 per day
Sony Bravia 37" Full HD. HDMI

Price includes presentation Stand..............................£60.00 per day
Call for more details
Return to home page
___________________________________________ ___________________________________________